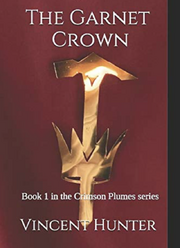 The Garnet Crown is a fantasy novel and is the first book in the Crimson Plumes series. It was published on August 10, 2020. Back of the Book Description:
The 83 year Long Peace has come to an abrupt end. Shadow sorcery threatens four major cities in the kingdom of North Dralyon. A burning banner that forewarns attack days' time, has appeared. Elated Prince Darius Malyveld has witnessed the shadow-flames of the cursed banner himself. Zaldyan is once more forcefully restricting all free-folk with his rigid classist system, causing divides, conspiracies, and romantic turmoil. With Darius's brother's city fallen, Darius is named Elated Heir to North Dralyon, and is forced to return to the capital city of Veldren, where he encounters his love-interest, Kevelynd Vyndrak. Darius is unable to interact with Kevelynd without the interference of the Elated Queen Kéandra and her loyalists pushing matriarchal rule. To make matters worse, Kevelynd is restricted to the lowest class of Zaldyan's hierarchy and cannot confess to Darius either his love or the fact that he is a trans-man.With Zaldyan once more devastating the Malyveld family, Darius inherits the garnet crown and orders a reform to battle Zaldyan's oppressive rule. And with the crown, Darius must take up the hammer and confront the trials of leadership, battle, intrigue, and love.

Book One of Crimson Plumes introduces the most diverse epic fantasy novel series of the twenty-first century.